Christmas – even this year – is a time of magic and sparkle. Bring some much needed festive cheer to your front door or fireplace with a homemade Xmas wreath. Stunning, joyful and simple – they are 'merry' effective!
What you need:
A wreath ring
Scissors
Green twine
Florist wire
Glue
Moss
Foliage (Evergreen, Ivory, Spruce, Holly…)
Xmas flair (fir cones, dried oranges, cinnamon sticks, ribbons, baubles)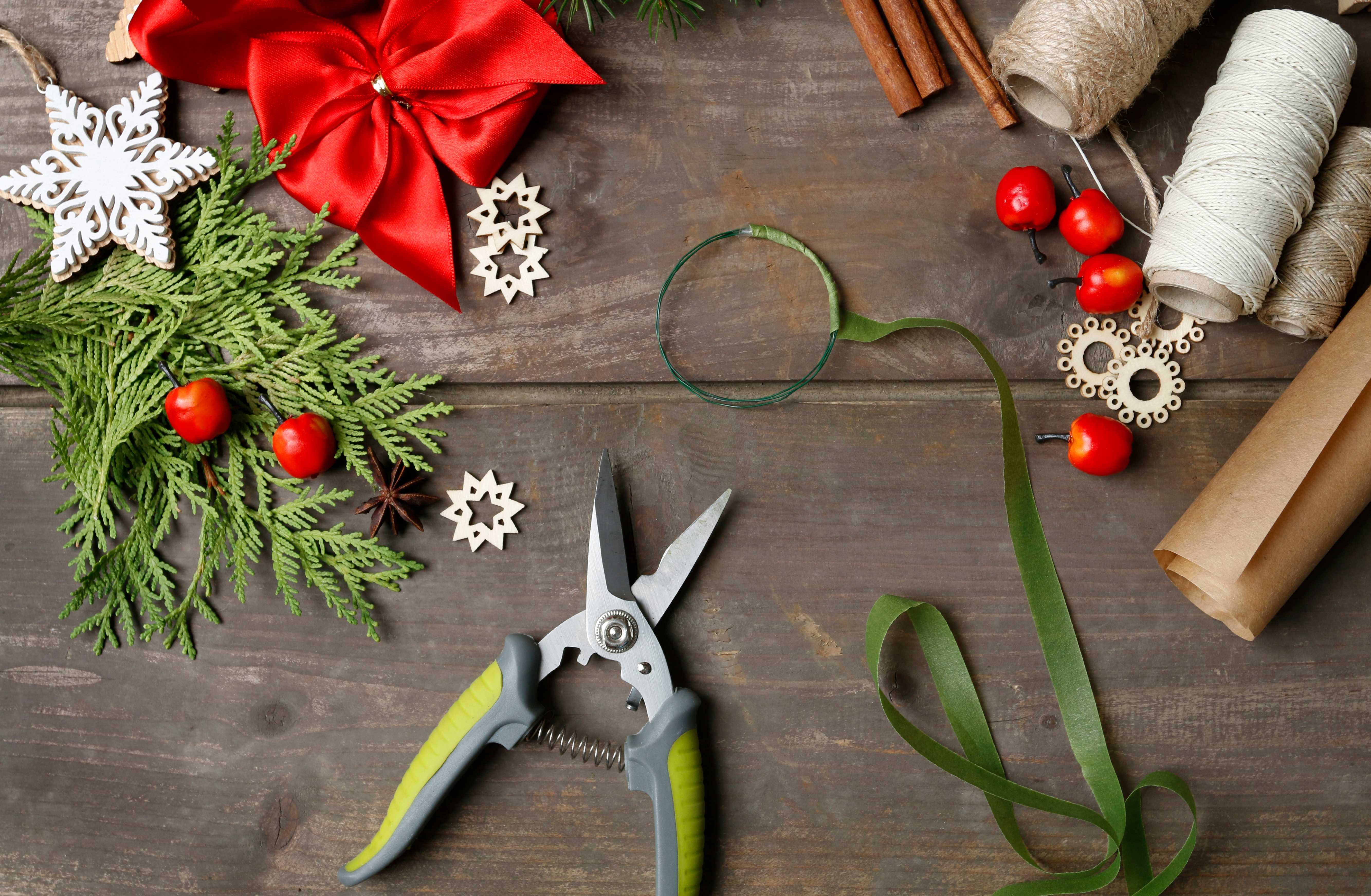 What to do:
First of all – prepare all your materials. Raid hedges for greenery – a mix of 2-5 different types will give your wreath a lovely texture and a beautiful spread of green. Pick more foliage than you think you will need – it is surprising how much you will use.
Cut the foliage to size in proportion with the ring, and group all the different types together.

Fill the wreath ring with moss. Pack it in tightly and wrap the green twine clockwise around the ring, leaving gaps of 4cm.  Pull it together to secure it all in place.
Finish with a loop of green twine on the back of the ring so you can hang it when finished.
Lie your first bunch of foliage diagonally across the moss ring and tie it into place with green twine.
Place your 2nd bunch just below the first and continue round the ring.  Overlapping your foliage will give you the best results.
Select your 'Xmas flair'.  This could be fir cones, cinnamon sticks, baubles, candy canes – you chose to give your wreath the personal touch.
Use the florist wire to tie into place your festive decorations.  Strong glue can be used for smaller decorative touches and, if using, finish off with ribbon in the gaps.
Make sure all the florist wire is bent through the back to avoid any sharp ends, and neaten up the appearance.
Hang from your front door. If you don't have a nail – use a wreath hook to attach it to your door frame.
Now your home will will be festive ready.  Time to bring out the mulled wine!