Ever dream about dating an extreme sports enthusiast? As a surfer, partner and father, I can tell you from personal experience that living with someone who enjoys extreme sports can have its ups and downs.
Much like bungee jumping, it's not everyone's idea of a good time, but if you're willing to take a leap of faith, it can be addictive.
Before you commit to a life with an adrenaline junkie, here are a few pros and cons to help your decide if it's worth the risk.
Exotic holidays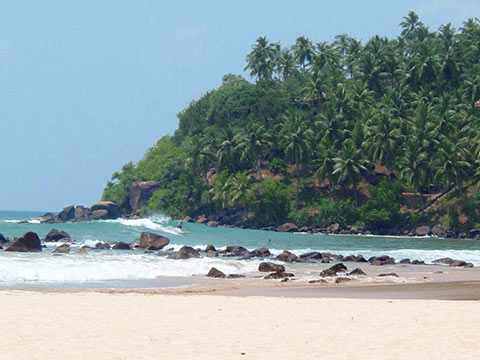 Pros: Travel to beautiful places around the world
Cons: Travel on a budget, with bulky luggage
Surfing holidays in Sri Lanka, skiing in the Alps, free climbing in Yosemite or mountain biking in the Rockies. All sound exotic, exciting and the perfect alternative to full board in Benidorm.
It's true, extreme sports people often travel the world in pursuit of the ultimate rush. But remember they travel on a shoestring, with fellow adrenaline junkies and with oversized sports equipment. For you, this can mean non-direct flights, travelling with a crowd, less suitcase space and the occasional cockroach.
Persuade your partner to leave some of their extreme sports gear in storage, and use the money saved on luggage for an upgrade once in a while. That way you'll see the world, travel with less hassle and steer clear of the creepy crawlies.
Keep fit
Pros: Keep fit and healthy with a free fitness instructor
Cons: Hard work and commitment required
Extreme sports enthusiasts spend a lot of time doing very physical exercise, usually outdoors meaning they keep fit, toned and naturally tanned. Perfect for inspiring you to keep in shape too.
But can you compete? Do you even want to? Chances are you have a normal non-physical 9 to 5 job. To maintain the same level of fitness and strength as your extreme partner, you'll need to spend all your spare time working out. It takes serious commitment, and a permanent positive attitude, so have you got what it takes?
You'll also need a lot of space or at least plenty of storage to accommodate the exercise bikes, rowing machines, gym balls and home fitness equipment. On the plus side, you'll keep fit and healthy, and you'll have your own live-in personal fitness instructor.
Extreme lifestyle
Pros: Enjoy cool people, places and playtime
Cons: Seasonal jobs, poor pay and accommodation
An extreme sports life is filled with uber-cool people, breath-taking places and involves serious playtime. But beware – extreme people are often egocentric, the accommodation will be budget and the hangovers can be life threatening. On top of that, jobs will be seasonal and pay poor. Extreme sports people often chase their 'fix', not careers or relationships.
It's a nomadic lifestyle, chasing the seasons, always searching for the optimal conditions for the chosen pursuit. You and your partner will need somewhere safe to keep bulky belongings and excess sports equipment. My advice is: rent a quality self-storage unit. Shurgard provide affordable solutions, accessible 7 days a week and will keep your prized possessions safe while you explore the world.
The extreme lifestyle is a world apart from dreary 9-5 office jobs and mortgages. With changing scenery, endless adventures and colourful characters, there's never a dull moment.
Look cool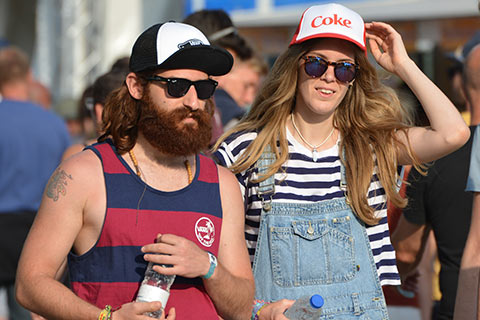 Pros: Look cool in all weathers
Cons: Formal occasions can be awkward
Alternative brands, high-tech materials and counterculture designs can make even middle aged Dads look cool. That said, extreme sports enthusiasts have a very limited wardrobe. Stocked with only the bare essentials for their chosen lifestyle. They have no sense of occasion and will never own a suit.
If you get an invite to a wedding, funeral or formal occasions you have three choices:
Hire formal wear for your partner
Ignore or decline the invitation
Go on your own
Go for no.1 to ensure you both arrive in style.
The pros of dating an extreme sports enthusiast can far outweigh the cons, especially if you're prepared for them. If you stick with it, you'll soon discover their lust for life can be infectious, and also make them an extremely good parent.
Surfer Dad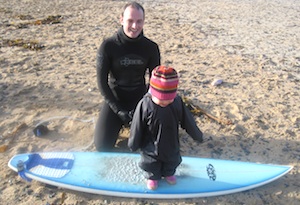 Andrew is a forty something surfer, father and author of the Surfer Dad blog. He enjoys mucking about with his daughter, partner and friends in tropical Cornwall. When Andrew is unable to go out and play, he writes about surfing and fatherhood instead.