As the temperatures increase, it is time to decrease the layers! Winter coats, hats, scarves and gloves will need to be put away.
Yeah, ok! But where do they go? Here's our advice for storing all your winter accessories.
Sort It Out
Good organisation starts with a sort out. Have a think about the following:
Holes in gloves or hats? If you want to keep it – patch it or sew up anything that needs to be fixed.
What do you no longer need? Donate or sell if they are still in a reasonable condition.
What are you missing? Maybe there are some items you have lost. Make a list, and perhaps you can grab some online bargains.
Clean it up
Next, give everything a good clean. Wash hats, scarves and winter coats to remove any dirt which could harm the items while in storage.
Remember to ensure that everything is completely dry before storing too. Any left-over moisture is a no-no as it will cause mould to grow. Yuk!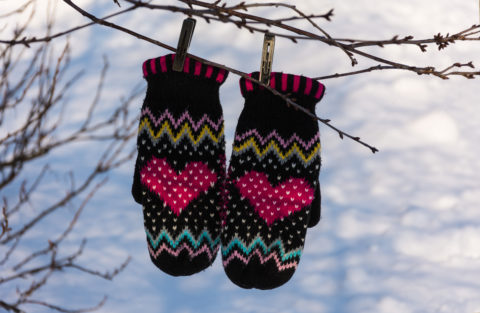 Group it all
Now start grouping everything together. Either go by type… hats, gloves, coats etc… or go by person. It will depend on what will be easier for you when you need to find anything again!
Pack it up
Winter accessories need to be well preserved if you want to use them again for next season. Try these tips:
Bulky items: For winter trousers or ski jackets – use vacuum storage bags. These little miracle bags shrink when you remove the air, making them more compact to store. Add silica gel sachets in-between or around storage bags to keep the moisture out.
Winter coats: Zip up zippers, button buttons, and gently fold coats made of leather, wool or faux fur so they keep their shape. Fill up your empty suitcases to keep them out of the way.
Hats: Stuff with rolled up paper to avoid indentations. Store in plastic totes.
Scarves: Use tie racks in your wardrobe, or towel racks to keep these items stored.

Store it
All items will need to be kept in cool, dark and dry storage conditions to preserve their condition. Use up all space – under beds, back of cupboards, on top of wardrobes.
If you have no more space available, self-storage is a smart choice. Keep all unwanted winter items in your own storage unit. They will be clean and dry, and out of the way.
Ready for that next cold snap… brrr…do one winter!