Utility Rooms are fantastic.  They are a space where you can keep all cleaning and laundry items out-of-sight.  The risk – however – is that they turn into dumping zones. Shut the door and don't worry about it.  Right? No, wrong!  If you get organised, and set up great storage Utility Rooms can be used to their fullest.
Here are 6 ways to maximise a Utility Room.
1. Floor to Ceiling Storage
Focus on practicality in your Utility Room, and use all available space.  Install floor to ceiling storage units with multiple shelves so you can stow away all your bits and pieces.
Create order by grouping items you regularly use together on each self – it will be much easier to grab what you need.
2. Wall Mounted Airers
If you struggle to find somewhere to dry your clothes inside, install a wall-mounted airer.  They are super practical because they can be stowed away when not in use, and opened out only when needed.
A clever tip is to install your airer above a sink or draining board which will allow your clothes to drip dry too.
3. Foldable Items
Invest in collapsible laundry baskets, buckets and washing up bowls so you can save space when stashing away these items!
4. Hanging Pegs
Install a hanging rail or pegs in your utility room – in all available spaces. Add them behind the door, or on the inside of cupboards.  Tie a loop of string to your brushes and dustpans and add a clip to cloths and dusters.  Then simply hang them up when not in use.
You can also use this space to hang winter coats or umbrellas – excellent if you don't have a porch or alternative area for bulky outerwear.
5. Stack Your Appliances
Save on space by stacking your tumble dryer on top of your washing machine.  Make sure you install this correctly though – you can't just place one on to the other! You will need to get a stacking kit (these may be brand specific or universal – check what will work with your make and model).
This will free up floor space for more storage.
6. Caddies and rolling units
Use flexible storage that can be pulled in and out. This includes decorative baskets with handles that can be picked up when needed, or transparent plastic boxes which can be quickly grabbed from the shelf.
Rolling carts are also superb storage ideas.  They can be stowed into tight spaces between cupboards and appliances and moved out when needed. This is particularly useful for cleaning products – simply roll your cart into the room you are cleaning and put it back when finished. Simple and efficient!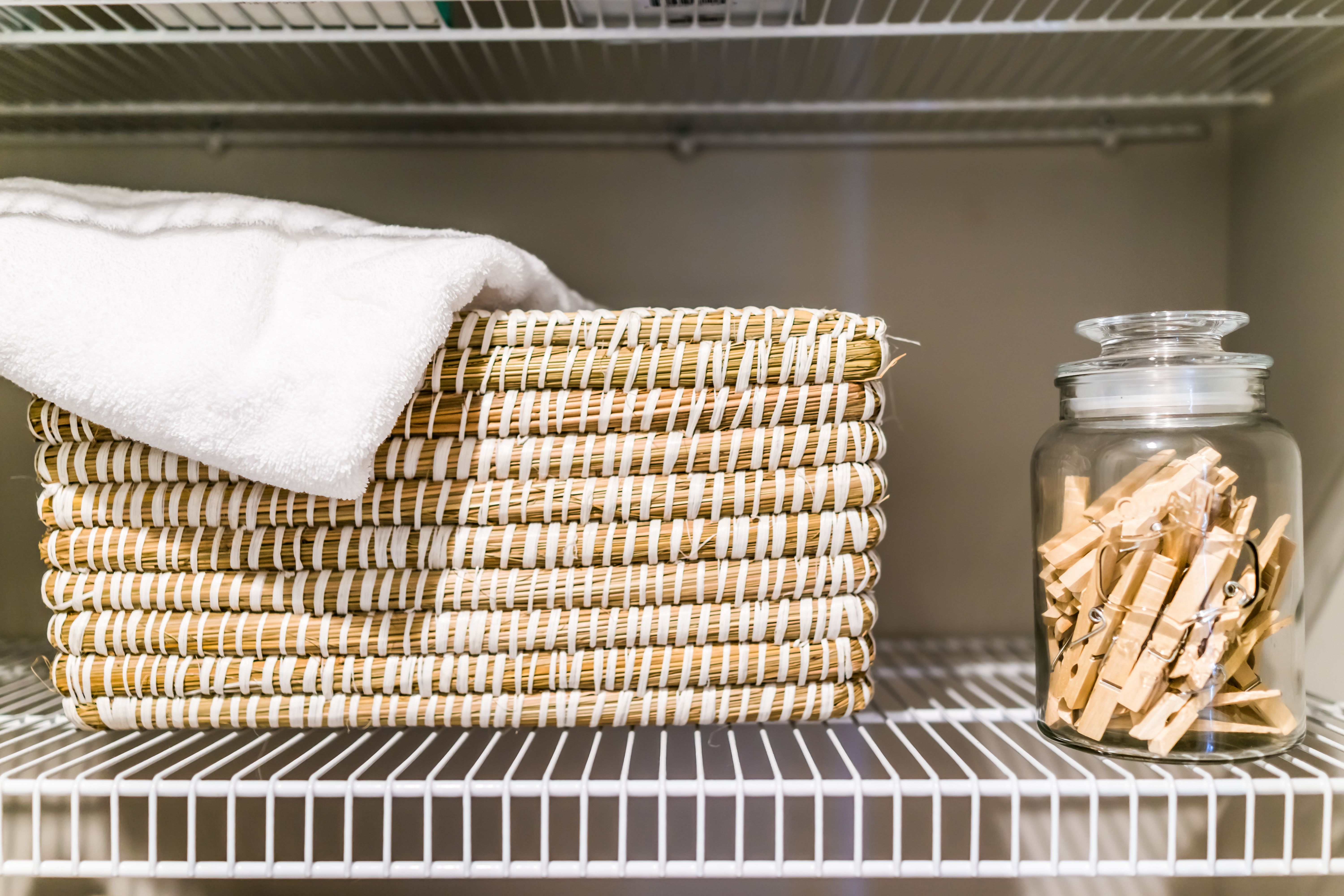 How do you maximise your Utility Room? Let us know your tips and tricks in the comments below.