Looking for ways to decorate your home this Easter? You are not alone!  With lockdown restrictions starting to ease – it is a time to celebrate, and that means going big this Easter.   Fancy themed centre pieces and seasonal decorations don't have to just be for Christmas. Eggs, bunnies, yellow and greens can bring some spring style to your home.
Need inspiration? Here's some awesome ideas to decorate your home or garden this Easter.
Easter Trees
Easter Trees are this season's must-have.  You can buy them ready-made, but we prefer to do-it-yourself so you can bring your own style touch to your décor.
Easter Trees are simply decorated twigs, so get outside and find some sticks! Arrange them in a vase or jar and get creative. You can use painted eggs, tie on ribbons in spring colours, add hand drawn pictures or cut out spring ideas from magazines/newspapers.  Get the kids involved and make your Easter Tree something special.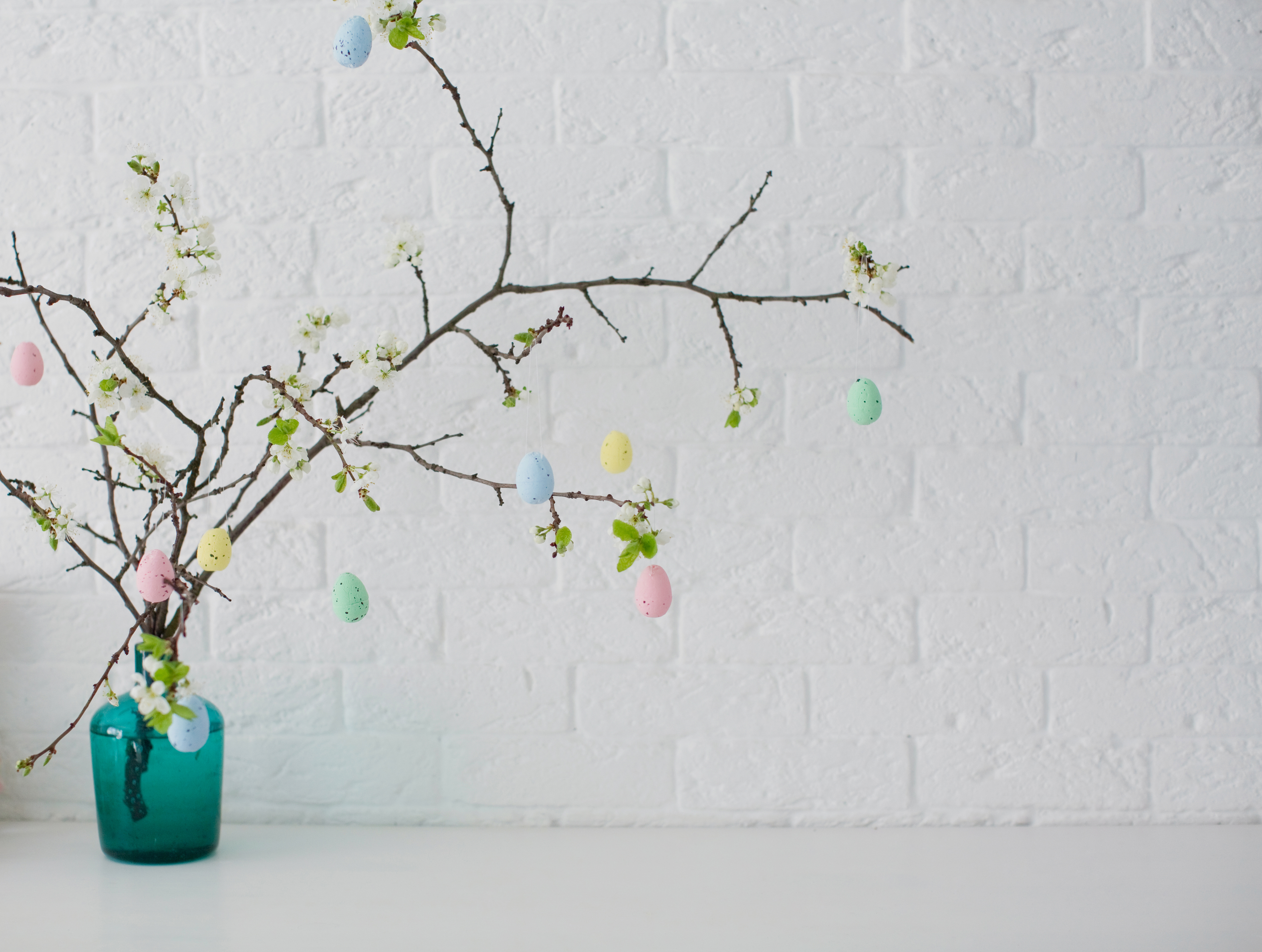 Easter table centrepiece
No matter if you are dining in, or going al fresco – bring a focal point to your roast dinner table this year with an Easter themed centre piece.
You can easily create something yourself with bits you find in the garden. Grab some bark or a small log and get the glue gun out!  Add foliage or moss to the top to create an attractive spring green base.  Then add your personal touches  – egg shells, little chicks, spring flowers… whatever you can find!
Egg-cellent Decorations
These egg decorations are super simple but look gorgeous!
First you will need to empty your eggshell.  To do this poke a small hole at either end of your egg – a good tip to do this without cracking the shell is to place a piece of masking tape on your egg and then puncture it with a thumb tack.  Next, poke an unbent paper clip into the hole and stir up the egg white and yolk. Then simply blow from the top (make sure you are over a bowl!) to get the insides out. Follow up by rinsing under the tap to make they are clean and leave to dry overnight.
To complete the look, add some little flowers and foliage into the hole and display!  You can either nestle on your table centrepiece – or decorate your egg box.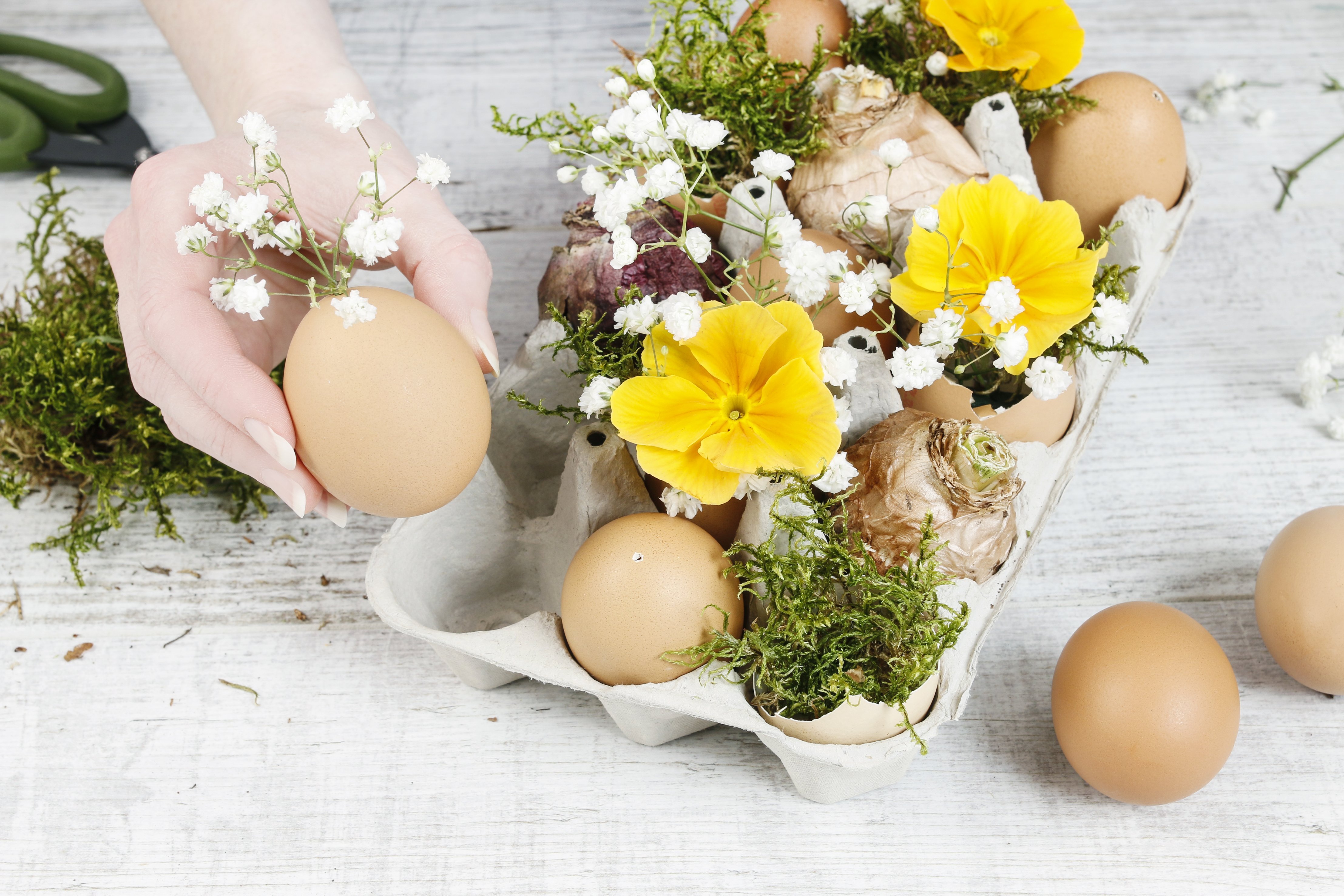 Bunny Napkins
A simple and cute finishing touch to any Easter table.
All you need for this are decorated eggs (but a traditional egg with a little face drawn on will do) and some napkins.  Roll up your napkin and wrap it around your egg with the ends at the top to look like bunny ears.  Secure it in place with some string and you are all done!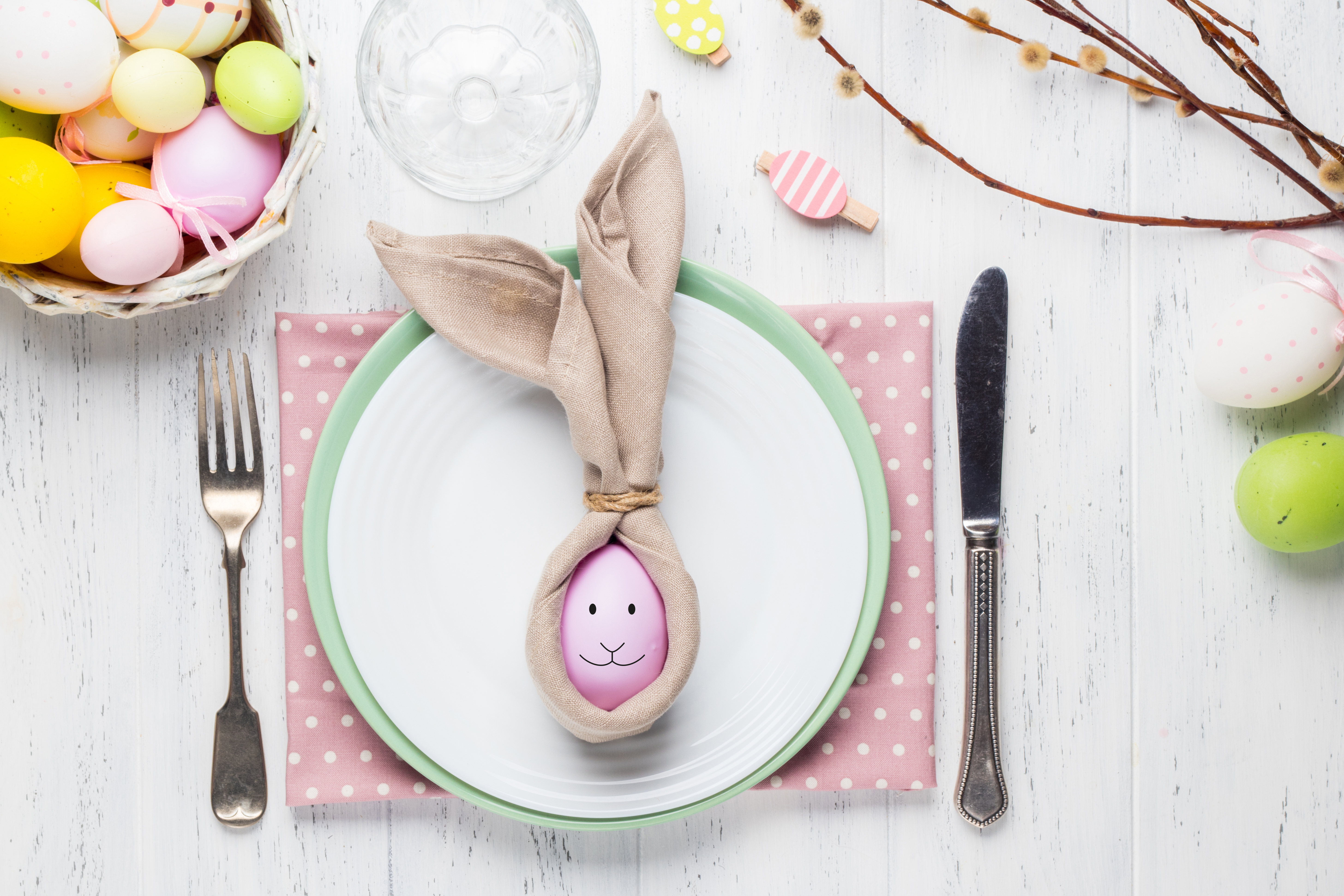 Salt-dough Easter Decorations
Salt-dough is fun to make! Mix the ingredients (2 cups of flour, to 1 cup of salt) and then gradually add water to create a dough. And, well, that's it! Cut out chicks and eggs or twist the dough into a bunny shape.  Do whatever you are inspired to do!
Then leave it to air dry, or bake in the oven until it turns hard.  Once dry you can paint to add the finishing touches.
These are just a few ideas to get you inspired for Easter! What will you do? Please share in the comments.
And if your Easter décor has got you tempted to bring more spring style to your home, we've got some more ideas in our Style Your Home for Spring blog.